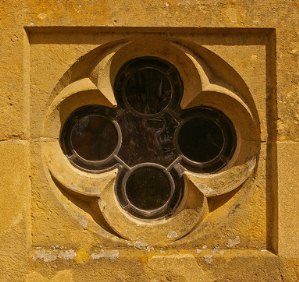 It seems like every where I look, a quatrefoil (four-leaved) design is a source of inspiration.  Whether it is used on walls or accent pieces, it really lends itself to a clean and modern aesthetic.  Although I like to think of my style as eclectic traditional, I am finding more and more that it is hard to pin down my style.  One thing I do know is I know what I like, and I like quatrefoil.  I am completely inspired by the pantry at The House of Smith's.  I don't know if it's the gray paint that looks like it'd fit our color scheme, or the pantry placement that is eerily similar to our own, but it is totally my style.  You'll even notice that she uses a quatrefoil design as part of her blog layout!
I am also enamored with her creative use of vinyl lettering.  Now, it's no secret that I have a new l0ve for all things vinyl ever since my diy vinyl wall tree.  Turn's out she actually sells custom vinyl lettering.  This means she must have a vinyl cutter.  Drool!  I'm a sucker for random industrial equipment.  Speaking of which, does anyone need to borrow a book binder?
One of the most genius application of a quatrefoil design was at Twin Dragonfly Designs.  Using a clear glossy finish only, it was applied using a stencil.  Can you say subtle chic?
Keep in mind, a quatrefoil desing can be put anywhere.  At Casa de Lewis, tiles were put to good use as beautiful coasters.
Where would you put a quatrefoil design?  I am debating between stenciling the craft room with a clear gloss like Twin Dragonfly Designs or in using a keep it simple approach like Casa de Lewis and using her method to add a quatrefoil design to a vase or similar piece of room eye candy.  Whatchya' think?