Our future plans involve laying down hardwood in our entire home.  Since the carpet that currently exists still has some life left, I don't want to replace it until it is necessary (oh the suspense is killing me; but I think it is practical to do major redesigns when they are warranted and not just because you want to).  Anyway, my point is we are going to need to start building up a rug collection for when we have hardwoods.
Because there is tons of fun in doing-it-yourself, I scoured the internet for diy rug options.  I was pleasantly surprised at all the choices I found.  They really push the boundaries of the the term "rug".  Because sewing doesn't agree with me and braiding/crocheting  seems time consuming – these are options I think would be simplest to do.
Plywood Rugs
I discovered my most favorite unexpected rug option at Sugar Bee Crafts -you can make a 'rug' out of plywood!  Oh the options for a plywood rug!  You can stain it or paint it (or both).  You can use stencils or tape.  You can make it fit your style. (The vinyl rug below has the same customization options).
At our old place we had a low pile carpet.  Office chairs roll nicely over this carpet.  Our new house's carpet, not so much.  This plywood rug might just be the ticket for this space!
Vinyl Rugs
The thing I love the most about vinyl rugs is the potential of putting a remnant piece of vinyl to good use.  Based on the tutorials I read, any vinyl will work; however a thicker vinyl is a must.  You can either paint vinyl like Addicted 2 Decorating's post (pictured below) and Design Dazzle's post or…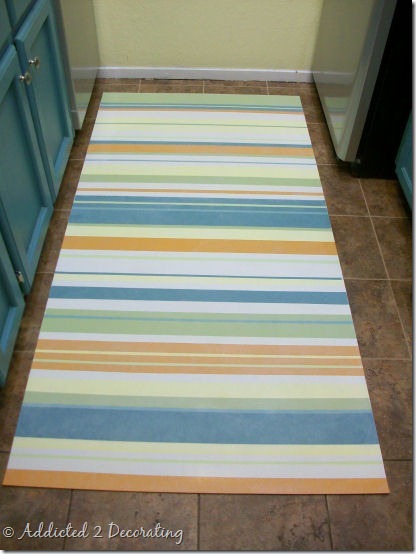 Or you can cover vinyl with fabric like In My Own Style.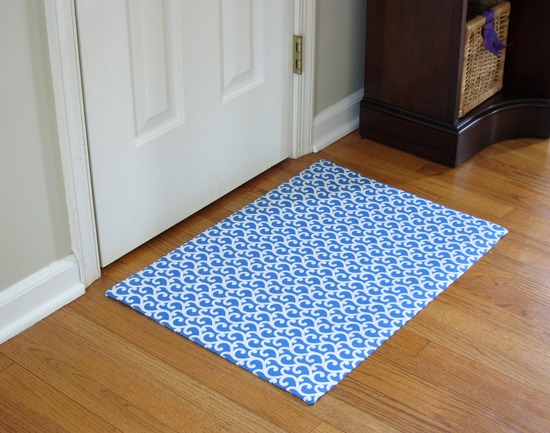 I am also in love with Momtastic's quatrefoil version of a fabric vinyl rug.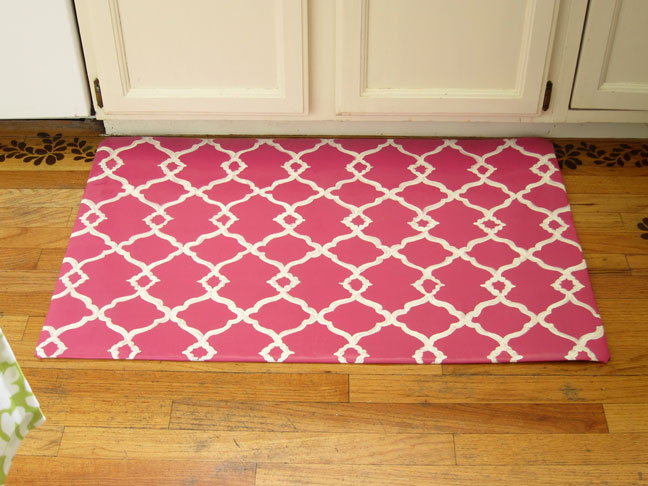 Fabric Rugs
Staying on a fabric roll, fabric rugs also have a lot of simple, diy options.  You can simply add a backing and lining to fabric you heart like High-Heeled Foot in the Door's chevron beaut.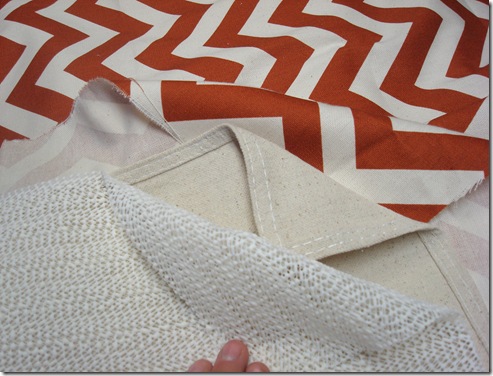 Rugs are not just meant for indoors.  An outdoor burlap rug is featured on ohdeedoh's how to post. One of the easiest rug options is to update an existing fabric rug with a little paint like Sarah Wandering did here.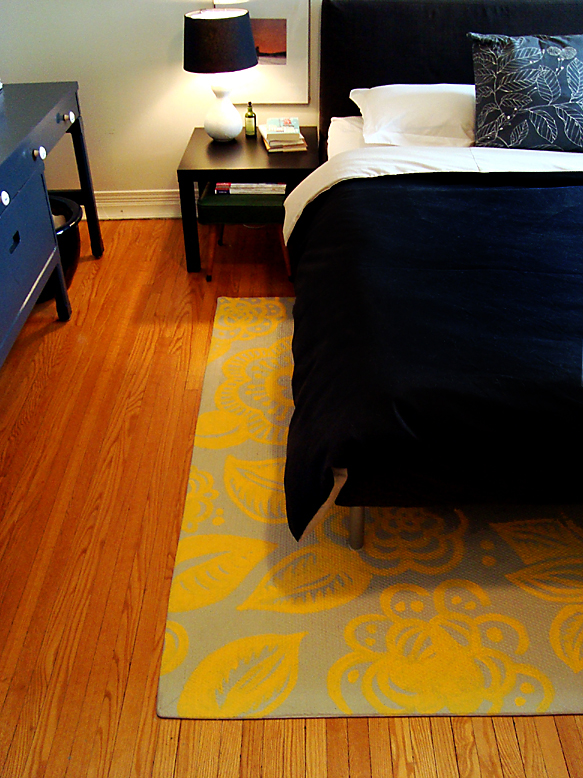 Or like A Little Bite of Everything's Moroccan inspired design here. It is fab and super simple.  The only color painted on was the white for the pattern. LOVE IT!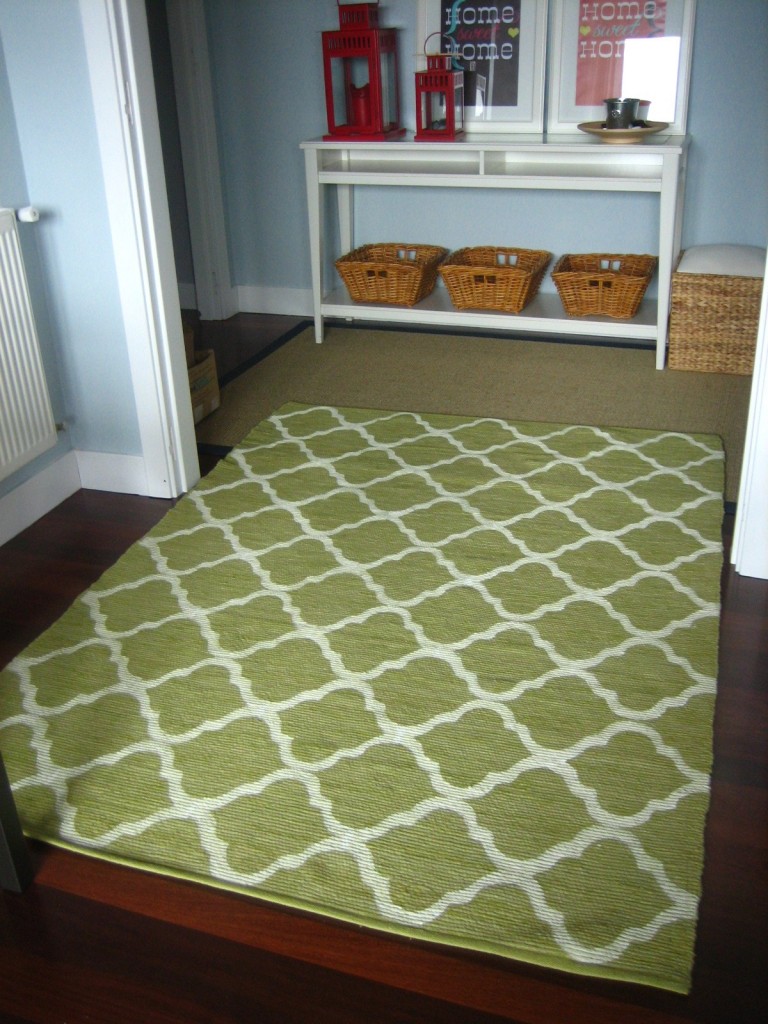 Roll Up Blind Rug
To add the cherry to this post, the easiest DIY rug I found was Re-nest's idea of converting a roll up blind to a floor covering.  Very chic!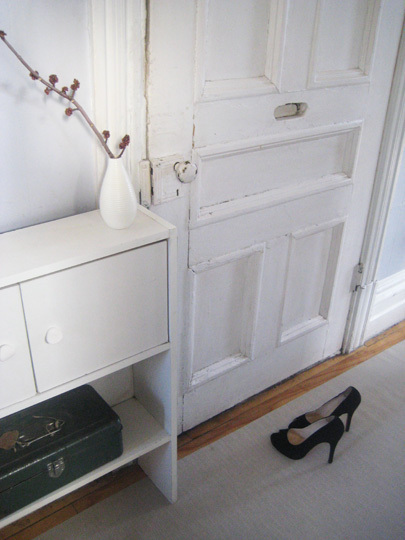 So which rug am I going to make?  Right now I want to make them ALL!  They are added to my ever growing home to do list…